Groopease Review- Los Angeles, CA, Jan. 2012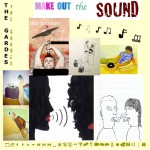 A nice jangly, lo-fi take on catchy melodies, droning vocals and minimalism is a good way to describe the first listen to The Gardes.  The group's new album Make Out The Sound is a brilliantly simple collection of sounds that cross lines between the Pixies, Nirvana, and even the Black Keys.  Songs like "Drink Drink Chug Chug" really bring out a playful side to their madness.  The uniqueness of these tracks still greatly outshines the somewhat logical comparisons, and makes for one album no one should miss out on.
Gently strummed acoustics, spacious vocals, roomy drums, casually dispersed overdrive, and kindly placed harmonies create the scene of a band of great friends playing a set just for you in a dimly lit corner of your basement.  There's something very intimate about their approach to recording, and the flow of the album leaves the listener hanging on, looking forward to whatever it is these guys will deliver next.  You won't be disappointed.
-Kyle Patrick